As Digital Ally Finally Gets its Day in Court, the Stock's Potential looks Bright
In this article, we will describe the recent history of Digital Ally (DGLY) and make the case that after many successes defending its intellectual property from much larger rivals, DGLY goes to court with a strong case and a statistically large chance of either a settlement or victory in front of a jury.
The last few years have been hard on Digital Ally, the maker of body cameras and dash-mounted cameras used by police departments, emergency management personnel and commercial fleet operators. After soaring to $25 per share in September of 2014, the stock's trajectory has mostly been down. As of the date of this article, DGLY languishes at about $2.65 per share. But not for long.
So, why has Digital Ally been in a trough, and why is it set to not only work its way back out, but also possibly soar? It's an interesting story, with a familiar ring to it. You might liken the narrative to David versus Goliath; however, it has taken David a few years to arm and adjust his slingshot. Now, the slingshot appears to be loaded and ready, and the target, Goliath, could be in for a surprise. Especially because the company playing the role of Goliath is Axon Enterprise, Inc. (AAXN) (formerly known as Taser), and it's likely it never thought that DGLY would last, and end up being completely victorious in defending its patents to its highly-innovative technologies that have become a required feature on all body camera systems. More on that later.
DGLY's Patented Products
First a little history on this tiny company based out of Lenexa, Kansas. DGLY's body cameras and in-vehicle video systems are useful to police departments as a way to provide objective evidence of officers' interactions with citizens. DGLY and other makers of body cameras and dash cams advance that when used by police officers, these products protect the officers from frivolous claims about officer misconduct. Additionally, in the wake of numerous cases of police shootings, many police departments and governments at the local and state level have decided that body cameras should be required to be worn by officers while on duty, as a check against potential police misconduct.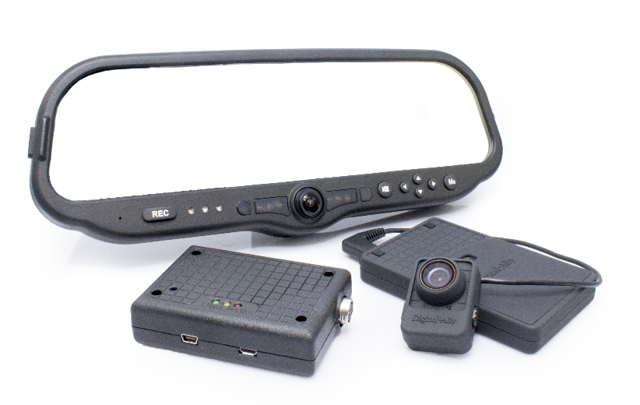 FirstVu HD and DVM-800 / Source: DigitalAlly.com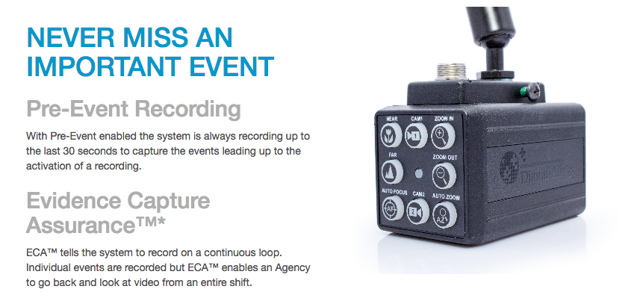 Source: DigitalAlly.com
Digital Ally represents that in 2014 it was one of the major players in the new industry of body-camera manufacturers and distributors. Indeed, DGLY had a very large installed base of well-regarded dashboard cameras in police departments worldwide, and therefore had an easy entrée into this new product line.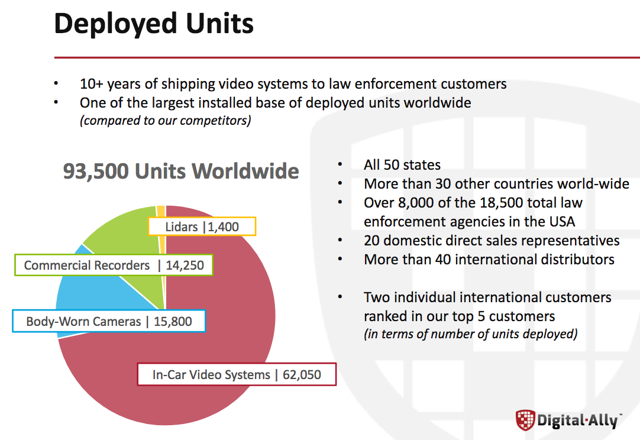 Source: DigitalAlly.com / December 1, 2017, Investor Presentation
Two things served to put DGLY on the map in late 2014. One had to do with its innovative technology, and the other was a tragedy that is now all too familiar. Here's the technology part: On July 14, 2014, DGLY announced that it had been granted patent number 8781292 for its VuLinkTM system. The Abstract of this '292 patent reads:
"A multiple recording device management system including an intermediate multiple recording device managing apparatus, a vehicle recording device mounted in a police vehicle and synced to the managing apparatus, and a personal recording device carried by a police officer and wirelessly synced to the managing apparatus. The managing apparatus is operable to detect when the vehicle recording device, personal recording device, or any other synced device in range has begun recording and to transmit a communication signal to any synced recording device in range indicating that the recording device should begin recording and to further transmit a time stamp to synced recording devices for corroborating recorded data."

Source: DigitalAlly.com
So DGLY patented a method whereby a police officer's activation of a dash camera triggers the automatic activation of the officer's body camera and syncs all devices to the same timeline. This ability differentiated DGLY in the still nascent marketplace and proved to be quite popular, resulting in growth in testing and evaluation by law enforcement agencies, which by the end of 2014 had translated into real income growth. In its March 23, 2015, press release announcing earnings for 2014, CEO Stanton E. Ross stated "Fourth quarter revenue increased 55% from prior-year levels, to $5.4 million, representing the strongest three-month period in the past twelve quarters."
Law Enforcement and Government Realize the Utility of Synchronized Body Cameras with Automatic Activation
The other major event that drew attention to providers of body cameras such as DGLY in late 2014 was the tragic shooting on August 9 of 18-year-old Michael Brown by Darren Wilson, a police officer in Ferguson, Missouri. The accounts of the shooting differed between police and civilians, and the resulting civil unrest in the community of Ferguson continued for almost four months. The Ferguson case brought scrutiny to the Ferguson police department and local government, and an eventual U.S. Department of Justice investigation. In December of 2014, President Barack Obama announced that the United States would spend $75 million on body cameras for local law enforcement, as part of $263 million in funding for this purpose. In light of the often varying accounts of events that occur between police and individuals, body cameras were rapidly being seen as a part of the solution. Subsequent to the events of late 2014, DGLY continued to see customers eager to adopt their solutions, particularly because of DGLY's superior technology and integration. On November 13, 2014 Stanton Ross said as much:
More and more of our customers are demanding an integrated solution that involves local or cloud-based storage, body-worn cameras, in-car video products, and interconnectivity from a single vendor, and we believe Digital Ally is the only vendor that can offer this end-to-end solution.
Digital Ally also gained third-party validation in 2014 from EMS World, an organization with magazines, websites, expositions and awards dedicated to the Emergency Management industry. In giving Digital Ally an Innovation Award in 2014, EMS World stated:
VuLink is a patented system for starting body-worn and vehicle video systems simultaneously, and the only system that can automatically start body cams. [emphasis added] It eliminates user error and distraction in high-stress situations...
Not only did DGLY's technology provide for synchronization and automatic activation of multiple cameras, but the company also developed an ingenious system of camera activation upon the occurrence of certain events, such as a police officer turning on the patrol car's siren, light bar, spotlights, or opening the car door. Furthermore, in February of 2016, DGLY received another patent from the USPTO that it described as follows:
"U.S. Patent No. 9,253,452 ('the '452 patent') generally covers the automatic activation and coordination of multiple recording devices in response to a triggering event such as a law enforcement officer activating the light bar on the vehicle. This pioneering invention eliminates the burden of manually activating multiple recording devices when law enforcement officers are responding to an emergent situation. This invention will help guarantee that all relevant evidence is captured, even if an officer forgets to activate his cameras."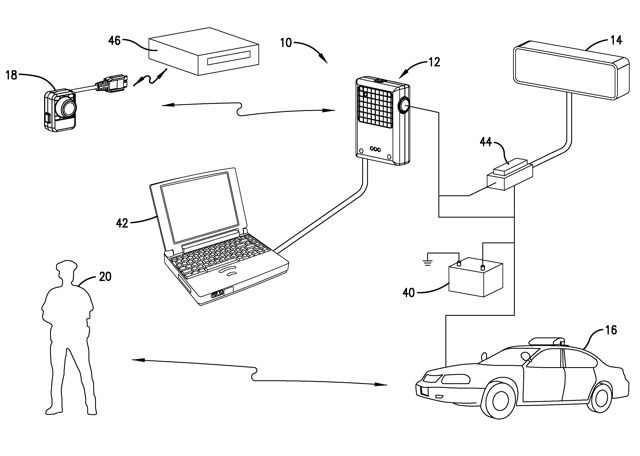 Source: U.S. Patent US9253452B2 / Original Assignee Digital Ally Inc.
We have heard of multiple examples of incidents between police and individuals where there is a dispute as to what occurred. Even though the officer is wearing a body camera, and the police vehicle is also equipped with a camera, there is no footage of the event because it is claimed that the officer forgot to activate the camera in the heat of the moment. DGLY's patented solution eliminates this frequently seen issue. The '452 patent was another huge intellectual property moat for DGLY.
So, why did this company on the cutting edge of technology solutions to the most pressing law enforcement issues of the day go from in demand to "also-ran"? The story is unfortunately familiar. Digital Ally was keenly focused on innovation and research and development, and committed to keeping the manufacturing and assembly of its products in the United States. It sought to compete on a level playing field, proud of its product strengths. Perhaps the jaded will think otherwise, but I think DGLY did not expect what happened next.
A new player in body cameras came on the scene. It was new in cameras, but not in the law enforcement industry. Taser International, makers of the ubiquitous stun guns, also known as electrical weapons, worn by police officers in the U.S. and worldwide decided that it needed to diversify its offerings, and the attention being paid to the body camera market was apparently too tempting to pass up. So tempting, in fact, that Taser apparently didn't think a few patents should get in its way in capturing the burgeoning market.
The Patent Fight Begins
So they disputed DGLY's '292 patent, and requested an ex parte re-examination at the United States Patent and Trademark Office in April 2015. In a September 2, 2015 press release, Taser claimed that the USPTO "rejected all 20 claims of the '292 patent..." DGLY immediately disputed such a statement with its own press release, and followed it up with a detailed refutation of Taser's claims on September 10, 2015. DGLY excoriated Taser for making "misleading and inaccurate" statements and pointed out that the initial response from the USPTO was very preliminary and in no way to be considered an invalidation of DGLY's '292 patent. As a matter of fact, when all was said and done, DGLY ended up with its original 20 patent claims being declared valid by the USPTO, plus an additional 39 claims that DGLY was allowed to add to the '292 patent. In other words, Taser International's pre-emptive strike against DGLY resulted in a major "self-own." DGLY subsequently chose to remove the '292 patent from the litigation to remove trial delays and continue with its '452 patent, which covers the vast amount of infringing activity according to DGLY.
DGLY rightfully saw this as a pre-emptive strike, since Taser did not yet even have a product in the marketplace that competed with DGLY's system, though DGLY pointed out that Taser's website was promoting the "Axon Signal" product, which shared some of the auto-activation characteristics of DGLY's products. So what does a good corporate citizen do when they are confronted with the fact that their product, which by December 2015 when the patent office rendered its decision reiterating and enhancing the '292 patent, is infringing?
Well, if you are Taser, you apparently ignore the patents and continue to sell your infringing product. In response, on January 15, 2016 DGLY announced that it had filed suit against Taser International, Inc. for willful infringement and sought an injunction.
In May 2016, DGLY also filed suit against Enforcement Video, LLC d/b/a WatchGuard Video for patent infringement ('292, '452, and '950 patents). WatchGuard claims that it has supplied body cameras to about 1/3rd of all law enforcement agencies in the United States and Canada. We'll get into the numbers in a bit, but the numbers are big. Very big.
So, now there's competition. A lot of competition in a hot market. Of course the fundamental purpose of a patent is to allow an inventor an exclusive period of time whereby the inventor can enjoy a monopoly on the sale of the technology that they invented. The exclusive period is intended to spur innovation. Without the exclusive sale/marketing period, it is argued that the incentive to invent would be greatly diminished. Inventors would be less likely to spend time and money on attempts at innovation if they knew that any corporate giant could take their work and immediately start selling it into the marketplace. An inventor should not be required to compete against their own invention during that legally exclusive period.
When Taser and WatchGuard decided to challenge DGLY's patents, interestingly they did so not with their own technology or evidence of prior-art. They didn't point to their own methods of innovation in the body camera synchronization field. Faced with well-financed competitors, DGLY continued to fight for its rights throughout the next two years.
Taser (now Axon) challenged DGLY's patents - each time failing - to the point that it ran out of challenges, and is statutorily barred from further attempts. In December of 2017, DGLY announced that the U.S. Patent Office also rejected WatchGuard's request for an Inter Partes review ("IPR") of DGLY's '950 patent. WatchGuard had previously agreed to be bound by the Patent Office's decisions related to the '292 and '452 patents, so WatchGuard had also run out of challenges at the Patent Office.
The lawsuits that DGLY had filed against Axon and WatchGuard, which were postponed by the courts while the patent challenges were ongoing, have finally been restarted.
The years of patent challenges have taken a toll on Digital Ally, mainly because Axon has used the patent challenge process to tap dance all over little DGLY's corporate head, all the while using its own patent moat in the electrical weapon space to go after infringers on its own Taser patents. DGLY maintains that its products have not gained as much traction in the market as they would have if its well-funded competitors had not engaged in what it considers patent theft.
DGLY's Patented Technology Now Required by Many Police Departments
As shown by Axon's own marketing material, the DGLY auto-activation technology has become an absolute must-have for body camera systems. Is Axon really selling its systems with synching and auto-activation as key features? See for yourself here and here:

Source: Axon.com

Source: Axon.com
And just to show that the synchronization and auto-activation features are a big deal industry-wide, here's WatchGuard's marketing material: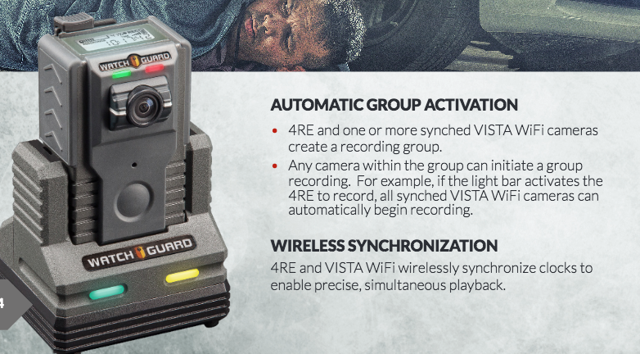 Source: WatchGuardVideo.com
What evidence is there that law enforcement wants cameras that auto-activate with minimal officer involvement, and that this DGLY patented solution has become industry standard? We did a little digging into law enforcement RFPs (Requests for Proposals), and found this to be precisely the case. Here are but a few examples from all around the USA.
Here is an excerpt from an RFP from the police department in Hermosa Beach, California from September of 2017:
The MVS [Mobile Video System] will be required to be configured to collect metadata that can be searched in the management system once it has been uploaded. Below is an outline of the kind of metadata that needs to be captured:

2. Triggers: When the trigger is activated, the MVS starts recording in response. Typical triggers include but are not limited to: Speed, Rifle removed from dock, Light bar activated, Impact (accident), Siren activated, rear door opened. The solution should provide support for up to 12 customizable triggers.
Here's an RFP from the city of Austin, Texas, from 12/7/2015:
The video system shall automatically activate from external trigger events, such as car door opening, siren activation, etc. - Mandatory
The date of some of the RFPs is striking evidence that shows that even just after DGLY's patent was issued, police departments were already REQUIRING technology that appears to coincide with DGLY's patent coverage.
Let's see what the good folks of Grand Rapids, Iowa, are looking for in their police camera systems in this RFP from September 22, 2017:
4.8.4 Once the officer has the device assigned and it is in use for a shift, CRPD would prefer to employ the use of automated triggers for recording in specific situations. While this feature may not be available to all vendors today, it is something that CRPD strongly prefers [emphasis added] in order to remove the need for manual activation of video in high stress situations. Triggers would include emergency light activation and crash/G-Force sensor
Let's revisit DGLY's '452 patent briefly:
Examples of a triggering event may include, for example, turning on the vehicle's siren and/or signal lights, an accelerometer measurement outside a pre-established norm, a position of the vehicle and/or officer as measured by a GPS, a vehicle crash event or the police vehicle...attaining a threshold speed (e.g., 80 m.p.h.), etc.
Survey says: What Grand Rapids, Iowa, wants is what DGLY argues is its patented invention.
Common sense dictates that the exclusive and key technology of DGLY's camera systems and its legal monopoly on that technology should have brought the vast majority of the business to DGLY. DGLY maintains that Axon and others have used their deep connections within the law enforcement field to sell their own infringing cameras while muddying the waters on the patent front by releasing highly misleading press releases about the status of DGLY's patents.
DGLY Racks Up Wins at the USPTO
The abuse that DGLY has been subjected to ends up strengthening its position in court, leaving Axon with no escape from the consequences of its actions.
Axon challenged DGLY's patents repeatedly and was thwarted each time. Meanwhile, Axon fired its last challenge volley and came up empty.
Now, this is what a jury will be presented with: On one side, the plaintiff, Digital Ally, owner of patents for a method of synching and automatically activating body cameras, dash cameras and other products. The products find a ready base of users. On the other side, the huge company Taser International (now known as Axon Enterprise), maker of controversial and extremely popular stun gun products, files with the patent office to invalidate DGLY's patents without even having a competing body camera product on the market at the time. As DGLY has said, this preemptive act is evidence that Taser was worried that it would be in violation of DGLY's patents. Rather than making a license deal with DGLY, it went for the scorched-earth approach. The results from the patent office, conveying win after win to DGLY without dilution of its patent claims (and even strengthening some), has only served to enhance DGLY's prospects at trial. After all, its patents survived multiple challenges from multiple companies, to the point that the statutory challenge LIMIT was reached. That leaves Axon (and later WatchGuard) to face a jury in court with no leg to stand on. DGLY will intend to provide the evidence pointing to the Axon's willful violation of DGLY's intellectual property, then show that Axon continued to sell the products that DGLY maintains are infringing long after receiving a cease and desist. The jury will hear that DGLY's patents survived all challenges without dilution of the underlying claims. Fact discovery is ongoing until later in September, and then the trial date rapidly approaches. The courts have established a tight schedule. According to DGLY's CEO Stanton Ross in the most recent Q2 2018 earnings conference call, in speaking with the magistrate, it is clear to DGLY that the delays will not stand anymore.
Unlike some patent cases where the issues are so complex and daunting that it takes a Ph.D. in physics, electronic engineering or chemistry to truly comprehend them, here we have a fundamentally straightforward, patented product and process, yet one that is truly novel and useful. There will be little opportunity for a clever defense team to throw a bunch of scientific babble from expert witnesses at the jurors in the hopes that they'll be confused.
So let's get to the heart of the matter…what DGLY wants to get from its court cases, what it is entitled to, and how that translates into real numbers.
DGLY has always maintained that its patents are being willfully violated. The evidence shows that Axon drew first blood when it preemptively tried to invalidate DGLY's patents. Now, with the patent office having re-examined and refused to invalidate all of the claims in each of DGLY's relevant patents, the willful violation by Axon and WatchGuard (and potentially other companies) of the patents seems like an easy case to make. For extra credit, here is an excellent Inter Partes Review decision of DGLY's '292 patent, shutting down Axon.
In a case of willful patent violation, the plaintiff often asks the court for an injunction to stop the infringement, damages for recovery of lost revenues, and damages beyond lost revenues from the sale of the infringing products, which monetary penalty is intended to act as a strong warning and disincentive to companies from stealing other companies' intellectual property.
Does DGLY intend to request all three at trial? In the Q2 2018 earnings call, CFO Tom Heckman provided a very good summary of DGLY's intentions and position, all of which bears reading:
"We want to stop the infringing activity. We want an injunction against all competitors and especially Axon and WatchGuard from using our patented technology. I mean, we should not have to compete against our own technology out in the marketplace. And that's exactly what we have had to do over the last 3 or 4 years. And Axon and WatchGuard both being bigger than us have had their way with it, but at this point, the litigation is proceeding and hopefully that will stop. So we are moving to stop the infringing activities as it sits today and we believe if we do that, the marketplace will adjust and recognize who is the rightful owner of this technology and then obviously we think we will at least have a level playing field and if not tilted playing field towards our side because of our superior technology in the auto-activation feature. And then obviously, ultimately, we want to be awarded appropriate damages for the infringing contract to-date. There have been a lot of ranges and numbers and a lot of discussions of that both internally and externally, but I will assure you that the numbers get stupid big as to what the potential damages and of this infringing activity could be. So we are excited. First, cleaning up the marketplace, making it very clear who owns the technology and then receiving damages for the willful infringement that's already occurred."
What is a DGLY Victory Worth?
So, it's clear that DGLY intends to request an injunction, remuneration for the lost sales, and damages for willful infringement. On top of all this, to calculate revenues to DGLY going forward, we must consider the likelihood that the customers that have been using the Axon and WatchGuard products will either want to switch to Digital Ally systems or have to forgo the in-demand synchronization and auto-activation features patented by DGLY.
Of course, Axon and WatchGuard could offer to settle with Digital Ally for a lump sum payment to cover past infringement (and then some) and then license the patents and pay a royalty to DGLY for each system sold in the future.
In its most recent conference call, DGLY addressed to the extent it felt that it could the monetary value of what it is seeking from Axon. CFO Tom Heckman referred to the potential sum as "stupid big" Indeed, the numbers are large, even before treble damages that could be imposed by the court for willful infringement. But though the numbers are large and would be game-changing for this relatively tiny company, they are by no means uncalled for, in my opinion. If you are of the belief that Axon and others willfully infringed on DGLY's patents, and as a result used their position in the marketplace to muscle DGLY out, then DGLY is entitled to fair compensation. Further, DGLY is also entitled to damages for the intentional path that it alleges Axon and others took. The alleged infringement is not related to a minor piece of a larger whole, but on one of the key features and selling points of the infringing camera systems.
During the question and answer session of the latest conference call, a caller brought up two interesting things pertinent to the value of a settlement (with just Axon to start): 1. Axon has contracted for approximately $750 Million dollars worth of body camera system sales, including "Axon Cloud" storage revenue which was a small portion of Axon's "Software and Sensors" category until this year. Conservatively allowing that the camera product component and the cloud storage "service" components are roughly equal revenue drivers (which was the case in Axon's report for 2017) we believe that a very solid case can be made for seeking lost profits and/or royalties on $325 Million dollars from Axon and; 2. Axon recently concluded a patent lawsuit with PhaZZer Electronics, Inc. where Axon was the plaintiff, and PhaZZer was ordered to pay 40% of the amount of revenue PhaZZer received for selling its infringing products.
What should the royalty rate be that Axon should pay Digital Ally? The case between Axon and PhaZZer is instructive in this regard. The court's order states "For patent infringement, a patentee's damages must be "adequate to compensate for the infringement, but in no event less than a reasonable royalty for the use made of the invention by the infringer ..." 35 U.S.C. § 284. A reasonable royalty is "the floor below which damages shall not fall." Stickle v. Heublein, Inc., 716 F.2d 1550, 1561 (Fed. Cir. 1983). There are two ways a court can calculate a reasonable royalty fee: "[t]he royalty may be based upon an established royalty, if there is one, or if not, upon the supposed result of hypothetical negotiations between the plaintiff and defendant." To come up with the reasonable royalty fee, the court used a 15 point list of factors named "the Georgia-Pacific factors." This 15 point list is available to read here on page 5, and a couple things do stand out in DGLY's favor, such as
"5) the commercial relationship between the licensor and licensee, such as whether they are competitors..." and "8) the established profitability of the product made under the patent, including its commercial success and current popularity; (9) the utility and advantages of the patent property over old modes or devices; (10) the nature of the patented invention and the benefits to those who have used the invention…"
Clearly, DGLY and Axon are competitors, and the utility and advantages of DGLY's patented system is so much of an improvement over old devices that DGLY's technology is now becoming the standard in all popular body camera systems, per DGLY.
In fact, without auto-activation and synchronization, body cameras themselves could be considered commoditized. Sure, there are improvements to be had in image quality, stability, capture - but these improvements are all incremental and apply to all camera systems. Auto-activation and synchronization is what set DGLY's system apart - and above - the competition. And DGLY are the sole legal owners of the intellectual property in question based on DGLY's patents.
To use the 40% number for a royalty award to DGLY, because it seems only fair that DGLY would be entitled to the same remuneration rate for its intellectual property as Axon is for its I.P., we are looking at about $86.9 Million dollars in royalty based on past infringement and current contracts, minus payment to Brickell Key (see below discussion about Brickell's investment and payout particulars) and after taxes. Then, if DGLY is successful in the courts, there would be an injunction preventing Axon from selling infringing products in the future and requiring Axon to pull existing products from the market. If DGLY successfully argues that Axon has willfully violated DGLY's patents, which in our opinion seems likely (and maybe the current discovery process unearths some evidence in this regard), DGLY could be entitled to be awarded treble damages. Doing the math, the total award comes to $284.4 Million after payout to Brickell Key and taxes. Perhaps this is far-fetched, so let's do some further modeling. Damages can be assessed by looking at a "reasonable royalty" rate, as was done in the PhaZZer/Axon case, which came out at 40%. They could also be based on the concept of lost profits. How much business did DGLY lose as a result of the alleged patent violations, and what is the margin rate on Axon's systems? It could be argued that DGLY lost $325 million in revenues, and a reasonable margin would be 20-25% in an exploding business that uses easy to acquire and assemble parts. After all, the value is in the patented technology, not the camera itself (though the quality and features of the camera is of course very important). After payment to Brickell Key and taxes, 20% would equal $65 Million in lost profits. Apply a treble damage award for willful violation and you have $130.35 Million. Perhaps there were extenuating circumstances in the PhaZZer/Axon case that led to an outsize 40% royalty, but the CEO and CFO of DGLY did not sound like they thought so on the Q2 2018 conference call. If one thinks that the 40% royalty rate is not reasonable and too high because the contribution of auto-activation and synchronization should not be given such weight, one could assume just a 20% royalty rate for past infringement, which would be equal to the 20% lost profits scenario.
What could the damages be in the DGLY/Axon case? It is hard to determine, and in the case of a royalty might involve the aforementioned "Georgia-Pacific factors." It certainly seems fitting that the considerations applied in the Axon/PhaZZer case be a guidepost here. Surely DGLY is in no mood to play nice after its competitor's actions. How would any business owners or leaders react if a dominant market participant tried to squash their business and invalidate their patents?
Patent Trial Statistics Show a Very Likely Chance of a Settlement
Now, the reality of patent lawsuits, is that only around 3% to 5% actually proceed to trial. Here is a 2016 Stanford presentation by James C. Yoon of renowned law firm Wilson Sonsini Goodrich & Rosati that contains useful statistics in this regard.
In the same presentation, statistics compiled from 1994 through 2014 show that juries tend to strongly favor the patent holder, resulting in a patent-holder victory rate of 77%.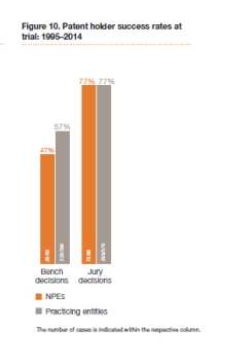 Source: 2016 Stanford presentation by James C. Yoon / WSG&R (from 2015 PWC Report)
As mentioned the overwhelming majority of litigants decide to settle beforehand, to replace the risk of a trial judgment with the certainty of a settlement, even if the settlement is painful or potentially less remunerative. Also, the defendant could appeal the initial trial ruling, and the plaintiff has about a 50-50 chance of winning on appeal, again according to 2006-2012 outcomes in the top five district courts per the WSGR presentation. It is reasonable that a jury could see this case as a David vs. Goliath story of the big bully on the playground stealing the small guy's lunch. One has to imagine that juries tend not to like bullies. Who does, except other bullies? Statistics favor the patent-holder; however, it is always a gamble when the jurors file in to render a verdict. A settlement would be practical and less risky for both parties.
In the last call, Stanton Ross addressed the extremely small percentage of these cases that make it to trial as follows:
"…it's a real small number and we will get there, because there is a tremendous amount of risk that we think that a company that is infringing on someone's patent is taking. Especially when you have attempted in virtually every fashion you can and have been unsuccessful in the patent office thinking that now all of a sudden, you are going to go to a courtroom and have the courtroom say well, the patent office doesn't know what the heck they were doing. [emphasis added] And so I would - I understand why that number is now so small. So they may play the game a little bit longer, but look we have been - we feel that we have been damaged greatly."
While Axon could decide to take it all the way to trial, I think both the odds and the risks point to a negotiated settlement. After all, as Stanton Ross said, it is tremendously risky to roll the dice on a jury trial with the facts at hand, and the multiple patent validation results at the patent office.
We can imagine the upper end of Axon's liability would be $390 Million with a courtroom verdict and treble damages. We can estimate the lower end to be $65 Million, assuming a 20% award for lost profits and no damages for willful infringement. Perhaps DGLY would be willing to settle for compensation of $200 to $250 Million up-front for the patent infringement that has occurred in the past, plus a royalty of all future sales of Axon's cameras of 20-25%. It is not hard to believe that Axon's body camera business would have belonged to Digital Ally, had Axon not infringed on DGLY's patents and muddied the waters with misleading press releases about those patents. The just outcome is to right the wrong, through an injunction, rather than reward Axon with the ability to continue using DGLY's inventions. If the court grants an injunction, Axon could conceivably have to refund all existing customers, recall all existing infringing camera products currently in the field, and then Axon would be left with a product that does not auto-activate. A commoditized product. Digital Ally, as the sole provider of patented auto-activation systems, would gain much of the business and could become the industry leader that it rightfully should have been. A settlement with a royalty might allow Axon to continue to sell its own products with DGLY's technology built in, and not have to recall its own products from the field.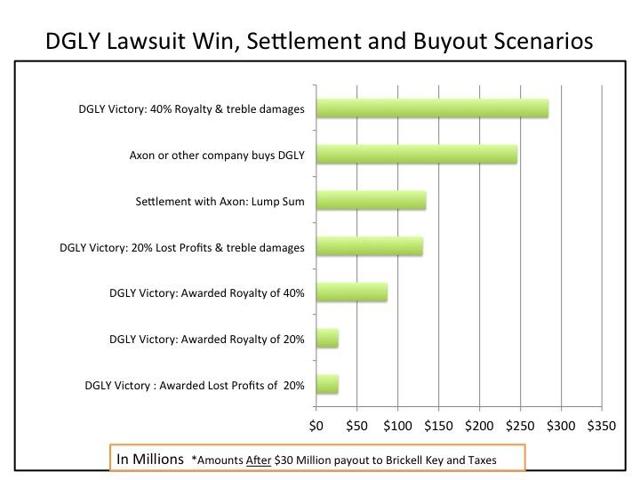 Axon undoubtedly can afford an astute legal team and assumedly has a rational board of directors. It'll be running the numbers and weighing its options. According to Axon's most recent filings and share price, the market capitalization is approaching $4 Billion. Would its team risk an adverse judgment that could equal as much as almost 10% of its market capitalization AND in the case of an injunction, decimate its future revenues, or will it be looking for a settlement with DGLY which allows the company to continue to sell auto-activating and synchronized systems and pay a royalty to DGLY into the future? There is a chance that Axon decides - one of the 5% or less statistically - to go all the way to a verdict in a jury trial. It might reason that it can wear DGLY out until DGLY runs out of money and throws in the towel. This strategy might have been successful if DGLY's patents were invalidated. As it stands now, likely because of the repeated validation of the patents, DGLY has found a source of capital in Brickell Key. If DGLY is victorious and an appeal does come, DGLY would likely have other investors willing to join the fight as well.
Whether Axon rolls the dice in front of a jury remains to be seen, but one thing is pretty clear, the answer will come soon:
Tight Trial Schedule
The trial schedule includes the following approximate dates as laid out by Stanton Ross:
By the end of September 2018: Discovery concluded.
By the end of November 2018: Expert witnesses deposed.
November 29: Mediation between the parties.
January 2019: Pre-trial conference.
Early 2019: Trial commencement.
Upside for Digital Ally's Stock
DGLY is a tiny company in market capitalization. Per the SEC filings, as of August 12, 2018, DGLY had 7,698,357 shares outstanding. On August 21, it announced a $9.5 Million tranche of funding from Brickell Key Investments LP. To my surprise, the funding does not involve the issuance of stock. It did include the issuance of less than half a million warrants. Instead, by my reading of the applicable filings, Brickell Key is being pledged a return of at least 2.25 times its investment of $10 Million on a trial victory or other monetization (which rises to 3 times after 2 years) or a 20% internal rate of return on its investment, whichever is greater. Assuming the exercise of those warrants, DGLY would have about 8.2 million shares outstanding.
Here are the details of the Brickell Key Investments funding, taken directly from the 8-K filed by DGLY August 2, 2018:
Pursuant to the Agreement and in consideration for the Financing Amount, the Company agreed to assign to BKI (i) 100% of all gross, pre-tax monetary recoveries paid by any defendant(s) to the Company or its affiliates agreed to in a settlement or awarded in judgment in connection with the Patent Assets, plus any interest paid in connection therewith by such defendant(s) (the "Patent Assets Proceeds"), up to the Minimum Return (as defined in the Agreement) and (ii) if BKI has not received its Minimum Return by the earlier of (x) a Liquidity Event (as defined in the Agreement) and (y) July 31, 2020, then the Company agreed to assign to BKI 100% of all the Patent Asset Proceeds until BKI has received an amount equal to the Minimum Return on $4 million.
As summarized above, the "Minimum Return" as defined in the Proceeds Investment Agreement is either (a) 2.25 times the Investment if a Liquidity Event occurs within two years after the First Closing Date or (b) 3.00 times the Investment if a Liquidity Event occurs later than 24 months after the First Closing Date, OR the "IRR Return". The IRR Return is defined in the Agreement as the amount which provides Brickell Key a 20% internal rate of return on its funding of DGLY.
Including an initial $500,000 investment from Brickell Key, that gave DGLY $10 Million to allow them to proceed to trial and come from a position of strength if Axon decides that a settlement is the best course of action.
Let's assume DGLY wins in court and is awarded the lost profits amount of $65 million. To all of the estimates of proceeds, we should deduct the Brickell Key returns and taxes (at a corporate tax rate of 21%). To be as realistic as possible, we'll use the three times multiple return on $10 million for a liquidity event after 2 years, rather than the lesser 2.25 multiple for a liquidity event in under 2 years. So we should deduct $30 Million from any liquidity event, which again could be a legal settlement, lawsuit victory, or buyout offer. So DGLY is left with a tidy sum of $26.75 million, which would equal $3.26 per share in cash to DGLY.
Assuming DGLY wins in court and is awarded lost profits of 20% and treble damages, after deducting Brickell Key's $30 million and taxes, DGLY would have over $15.90 per share IN CASH in its coffers.
What about a negotiated settlement that includes $200 million upfront? After Brickell Key's piece, taxes, and a yearly royalty on Axon camera sales of 25%? Almost $16.38 per share IN CASH plus yearly revenues on camera system sales. From a review of Axon's last quarterly press release, it appears that it is reporting camera system related revenues of about $16 Million in the quarter, which doesn't include any revenues from the cloud storage systems. Of course, its whole cloud storage system is built on customers purchasing the cameras and recording data. Without the camera business, the data storage business would barely exist. That is another $22.5 Million in quarterly sales. DGLY has its own cloud storage system. If Axon could no longer provide cameras with auto-record and synch features, one could see that data storage business migrating over to DGLY. Not taking any of the cloud storage business into account, and estimating a yearly run rate for camera systems of $64 Million and taking 25% gives yearly revenues to DGLY of $16 Million if Axon were to settle with DGLY and provide a royalty on sales going forward. Deducting taxes at a corporate rate of 21%, and disregarding DGLY's current business and customers as well as its greatly strengthened position in the marketplace with its validated patents and pursuit of infringers, the royalty from Axon would alone give DGLY earnings of $12.64 Million per year ($1.54 per share). At a conservative price to earnings ratio of 20, that would equal a share price of $30.80. Adding in cash on the books from a victory or settlement, DGLY's share price would range from $34.06 per share to $65.48 per share. While going from $2.65 per share to a range of $34.06-65.48 per share in a very short period of time seems kind of outlandish, we have to remember that: 1) A trial victory, settlement or buyout is a binary situation, where a stock can be revalued in the blink of an eye; and 2) DGLY is a tiny company with only 8.2 million shares outstanding, fully diluted. When shares outstanding are small, share price numbers can easily get big.
Another possible scenario is an attempt by Axon or a third party to buy DGLY. If the offer were right, Axon could swallow its rival and own the key patents itself. It could then pursue the other interlopers in DGLY's patent forest. The offer would have to be good enough to convince the DGLY shareholders, and be irresistible enough to the BoD. Anything less than $30 per share might not meet that threshold, and perhaps just barely. After all, $30 per share is still only a $246 Million market cap. Strangely enough, Axon did just raise $246 Million in a public offering in May, with no specific purpose indicated. That money could go fairly far toward an offer to by DGLY perhaps.
Of course, the result of any trial victory would involve an injunction against Axon that would require any company or agency wanting camera systems with DGLY's technology to purchase from DGLY, or a royalty on future sales which include DGLY's technology. A settlement would most certainly involve a royalty on future sales as well.
Again, looking at a settlement that involves a 25% royalty on future sales, for camera systems sold by Axon alone, after taxes DGLY would be looking at $1.54/per share annually. Ascribing those earnings to any company at a p/e of 20 (and assuming a breakeven business otherwise), without factoring in the cash on the books, you would see a $30 stock price. Here is a chart which adds the $1.54/per share at a p/e of 20 to the cash award or settlement scenarios: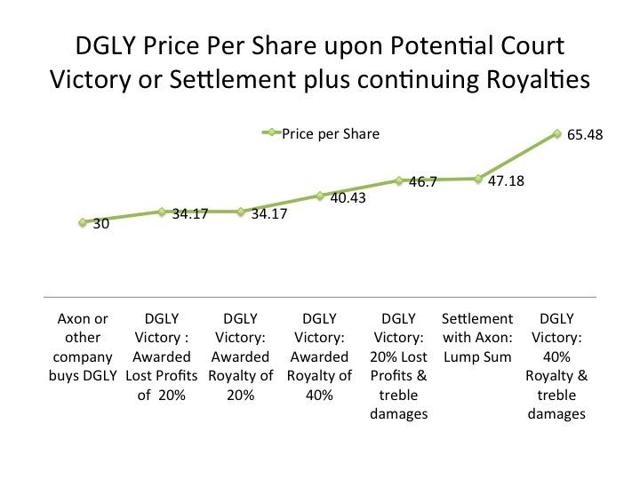 Here's a table that illustrates the different payout scenarios and speculates on a suitable price per share for each outcome:
| | | | | | | | |
| --- | --- | --- | --- | --- | --- | --- | --- |
| Outcome | Gross | Brickell Key Payout | After Brickell Key Payout | After Tax on Proceeds at 21% | Cash to DGLY | Cash per Share to DGLY | DGLY Share Price with p/e of 20 on Continuing Royalties |
| Taser or other company buys DGLY for $30 | $246 | -$30.00 | $216 | N/A in Buyout | N/A in Buyout | N/A in Buyout | $30/share to shareholders |
| DGLY Victory : Awarded Lost Profits of 20% | $65 | -$30.00 | $35 | -$7.35 | $27.65 | $3.37 | $34.17 |
| DGLY Victory: Awarded Royalty of 20% | $65 | -$30.00 | $35 | -$7.35 | $27.65 | $3.37 | $34.17 |
| DGLY Victory: Awarded Royalty of 40% | $130 | -$30.00 | $100 | -$21.00 | $79.00 | $9.63 | $40.43 |
| DGLY Victory: 20% Lost Profits & treble damages | $195 | -$30.00 | $165 | -$34.65 | $130.35 | $15.90 | $46.7 |
| Settlement with Axon: Lump Sum | $200 | -$30.00 | $170 | -$35.70 | $134.30 | $16.38 | $47.18 |
| DGLY Victory: 40% Royalty & treble damages | $390 | -$30.00 | $360 | -$75.60 | $284.40 | $34.68 | $65.48 |
Downside Risk
Small public companies in the midst of extended litigation are often faced with cash flow issues as litigation costs add up and the balance sheet gets depleted. Public companies frequently choose share offerings, and if their business is not cash-flow positive, these offerings can be quite detrimental to the stock price. In DGLY's case, it has chosen at this point to raise funds through an arrangement with Brickell Key that is only slightly dilutive through a relatively small amount of warrants. DGLY has generally managed its cash well over the last four years despite its challenges. When it has raised money through the public market, the offerings have not included excessive warrant coverage. The money that DGLY now has should support the company through its two back to back court cases, first with Axon and then with WatchGuard.
A brief word about DGLY's underlying business. In their latest conference call, DGLY sounded upbeat about their recent quarter. They spoke of gross margin expansion, SG&A reduction, and the highest revenues since Q1 of 2017. They also mentioned there are some deals in the works that, if signed, could be material. They mentioned expansion into new or long-dormant areas (such as cruise ships).
DGLY operates in the red, though they have said they believe they are moving toward cash-flow breakeven. They have continued seek out new business and expand into new markets. They continue to build customer relationships such as the one with Kansas City-based zTrip to connect their DGLY's DVM-250 Video Event Recorders to DGLY's FleetVu cloud based driver monitoring and management platform. Stanton Ross is quoted in the deal announcement saying that they hope to expand to all of zTrip's more than 5000 taxi and rideshare vehicles. One area of expansion is their cloud data storage solutions, which provide recurring revenues.
There is a chance that Axon and WatchGuard will refuse to settle, and the cases will go to trial. Then there is a risk, as there always is when redress is sought in the Courts, that DGLY will not prevail in the two upcoming trials or ones thereafter. DGLY is currently also exploring alternatives through investment bank Roth Capital Partners. It is possible that no good offers will come in. So the downside risk is that DGLY must continue to fight in the marketplace for customers and get operations to profitability. I imagine some lowball buyout offers would come in at that point, so the absolute downside wouldn't be zero, but somewhere in the $15 to $20 million range. And DGLY's market cap is only $20.5 Million right now.
Some investors take issue with patent-related lawsuits, conflating all companies that protect their patents in the court with "patent trolls." Patent trolls are companies that exist to acquire patents and then attempt to monetize them by taking legal action or threatening legal action against other companies by suggesting those other companies have infringing products. Patent trolls usually don't have an underlying business that actually makes products or provides services, and they did not develop the intellectual property in question. Digital Ally, on the other hand, has always been in this business and invented the technology that is now integral to all popular body-camera and in-car camera systems. It should not at all be considered a patent troll.
Next in Line
After Digital Ally's case against Axon, the lawsuit against WatchGuard follows on its heels. I haven't spent any time detailing the WatchGuard case, but it is informative to consider its size and some statistics about it. It is not small. On the website, WatchGuard claims to be: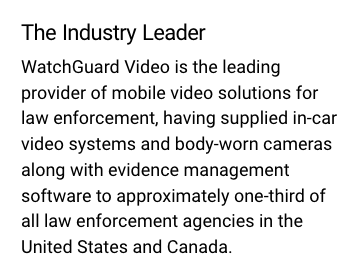 I'll quote directly from a press release that WatchGuard put out on August 22, 2018, titled, "WatchGuard Named to Inc. 5000 List for Fourth Consecutive Year; Law Enforcement In-Car and Body Camera Manufacturer Among Fastest-Growing Companies in America." The press release states: "The 2018 Inc. 5000 rankings were based on a three-year revenue growth rate. In 2017, WatchGuard posted net revenues of $94.1 million." Robert Vanman, the founder and CEO of WatchGuard, is also quoted in this press release, stating:
"A key driver to our growth continues to be our fully integrated and synchronized in-car and body-worn camera system," explained Vanman. "We're meeting lots of new customers who are willing to fund the replacement of their existing standalone in-car or body-worn camera system in favor of a WatchGuard integrated system because they understand the operational and evidentiary benefit of having the two systems tightly integrated."
Hmmm. A key driver of WatchGuard's growth is its synchronized in-car and body-worn camera system. That sounds familiar. Almost as if I've heard of a body-camera manufacturer that owns multiple patents to that technology.
One Last Thing
As the infomercial pioneers liked to say: "But wait - there's more!" DGLY currently has litigation with Axon and WatchGuard. DGLY's patents are now essentially bulletproof at the Patent Office as far as Axon and WatchGuard are concerned. There are other large players in this market that have body-camera and in-car camera systems. Players such as Panasonic Corp. (OTCPK:PCRFY), Motorola Solutions, Inc. (MSI), and L3 Technologies (LLL). A cursory review of L3's BWX-100 Camera marketing material states this:
With L3's BWX-100 body-worn camera, you've always got that unbiased eye documenting critical moments from your perspective. Equipped with bidirectional triggering capabilities: in-car video activation, lights, sirens, and accelerated speeds can all trigger the body-worn camera to record. [emphasis added.]
Sounds to me like DGLY's intellectual property.
What happens in the Axon and WatchGuard cases could be very informative. DGLY might have other companies in its sights in order to defend its intellectual property.
I expect to see DGLY's stock price increase steadily as the first trial approaches with Axon, and the focus on this special situation increases substantially. The range of outcomes corresponds to a wide range of stock price estimates, from $30 cash per share to shareholders for a buyout all the way to $65.48 per share for "the works." Even at the absolute lowest end, DGLY could be a timely and lucrative investment, with a risk/reward profile that I believe skews heavily toward the reward side. Just to factor in the risk, I'm going to look for DGLY's share price to at least double by year end, and hit $34.17 in one year's time, which reflects a lost profits award of 20% on past sales and a 25% continuing royalty. Lest one think that the estimates presented are too bullish, remember DGLY's tiny number of shares outstanding. An estimated stock price of $34.17 per share equates to only a $280.2 Million market cap.
DGLY is about to have its day in court, and therefore it is possible, as the trial date gets closer, that an offer comes in that causes a stock jump, which is what special situation investing is all about. The court-mandated mediation is only slightly more than two months away. Will Axon settle or offer to buy DGLY? Or will it be the 5% or fewer that statistically decides to face a jury verdict, knowing that in over 3/4ths of those jury trials, the patent owner wins? We'll find out very soon.
Disclosure: I am/we are long DGLY.
I wrote this article myself, and it expresses my own opinions. I am not receiving compensation for it (other than from Seeking Alpha). I have no business relationship with any company whose stock is mentioned in this article.
Editor's Note: This article covers one or more stocks trading at less than $1 per share and/or with less than a $100 million market cap. Please be aware of the risks associated with these stocks.